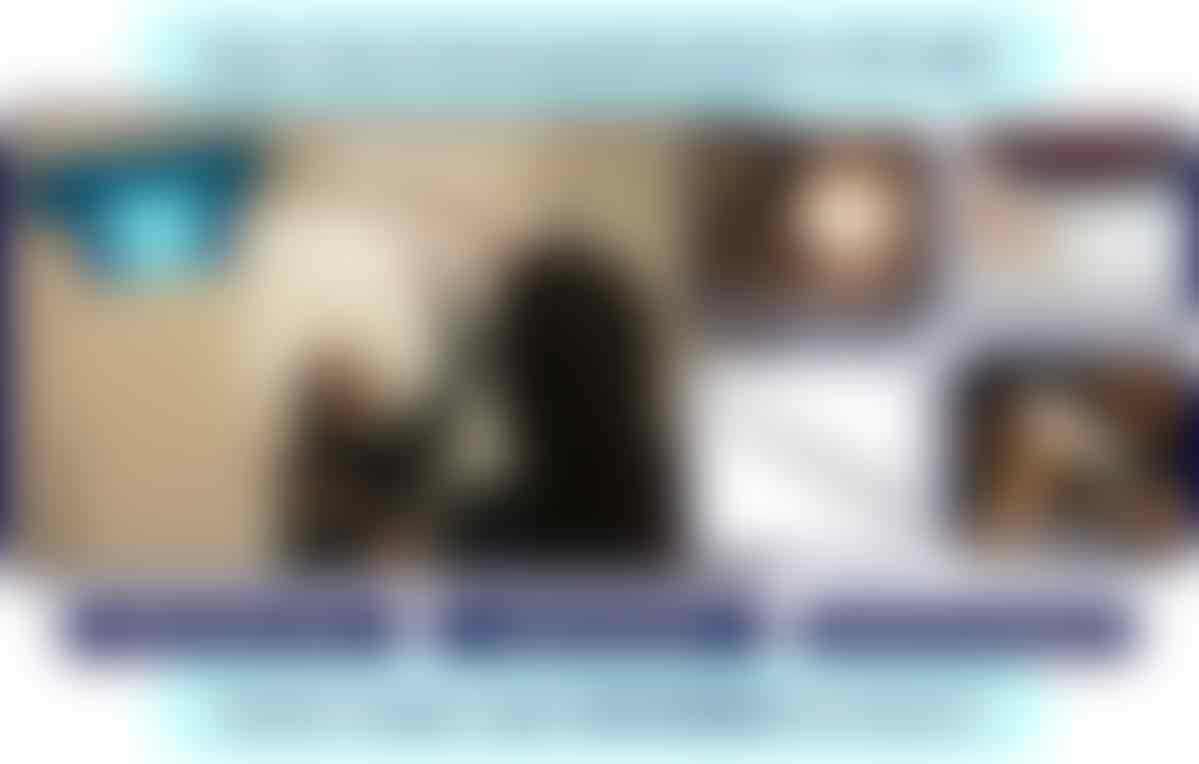 Our customers say
Excellent
4.7

out of 5 based on
99,809 reviews

Our customers say
Excellent
4.7

out of 5 based on
99,809 reviews

Light up those dimly lit areas of your home with Bright Bar,
the super-bright wireless LED light you can use ANYWHERE.
Its clever cable-free design and magnetic base means there's no drilling,
tools or expensive electricians required – just hang up and light!
Bright Bar puts you in COMPLETE control – choose anywhere
from a stylish ambient glow to super-bright light.
Plus, the super-smart motion sensor mode is perfect for those times when
you don't need constant light – it turns on and off AUTOMATICALLY!
Super-Bright LEDs
One Charge Lasts Weeks!
Attach With Included 3M Sticky Pads Or Magnets
USB Rechargeable
ALWAYS Stays Cool To The Touch
Choose From Cool or Warm Light
Stylish Design
Installation Is So Quick & Easy – Just Hang Up And Light Up
Installation Is So Quick & Easy – Just Hang Up And Light Up
Use the 3M magnetic sticky pads or attach straight onto ANY magnetic surface
Switch To 'Motion Sensor' For Those Times You Don't Need Constant Light
Switch To 'Motion Sensor' For Those Times You Don't Need Constant Light
Only comes on when it detects motion to save battery
Stylish, Slimline Look Compliments Any Interior
Stylish, Slimline Look Compliments Any Interior
Premium quality design looks great & lasts a lifetime
Adjustable Brightness Means You're In Complete Control
Adjustable Brightness Means You're In Complete Control
Choose anywhere from stylish ambient glow all the way up to super-bright!
Rechargeable - So There's NEVER Expensive Batteries To Replace Or Annoying Wires
Rechargeable - So There's NEVER Expensive Batteries To Replace Or Annoying Wires
One charge will last weeks
Decide You Want To Move Your Bright Bar? No Problem
Decide You Want To Move Your Bright Bar? No Problem
Need a torch in an emergency? No problem
Choose From Warm White Or Cool Light
Super-Bright Light Anywhere You Need It!

FLASH SALE: LIMITED TIME ONLY
FLASH SALE:
LIMITED TIME ONLY
SAVE £4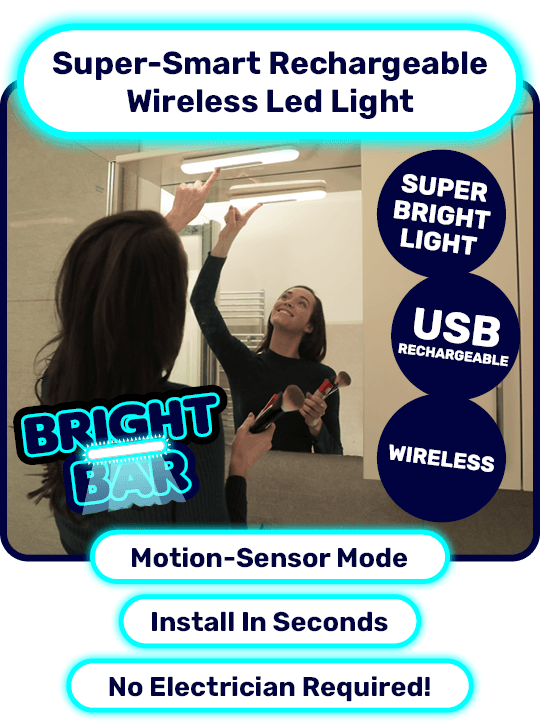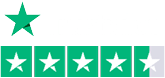 Rated Excellent
4.7 out of 5
99,809 reviews
Get your
Bright Bar
today and SAVE

£4
USUALLY £18.99
NOW £14.99
Or Pay it in 4 with

Info
Order now for guaranteed delivery by:
Monday 4th December
Super-bright wireless light
Why shop with us?

2 working day delivery guaranteed

Family owned & run

British business (110 staff)

83,966 5 star reviews

Over 2.2 million happy customers
2 Working Day Delivery
Tracked with Royal Mail
from family-run UK business
No Quibble 100-Day
Money Back Guarantee
UK based customer services
Hassle-Free
Returns Guarantee
Returning items is quick & easy
Customer Reviews Powered By
Excellent
Based on 88,555 reviews on

Verified
Dr Mirza, 19 August
Bright Bar
Pleased with the product. Good value for money
Verified
Colin King, 30 July
Brilliant bright bar.
Bought a bright bar recently and use it in our porch. Great idea and glad I bought it. Motion sensor works really well.
Verified
S T Conway, 23 January
They do what they say they'll do
Bought 2 LED lights, work just great
Verified
Dotty., 23 January
Light can be fixed anywhere
Light can be fixed anywhere. Mine is above my dressing table mirror. Gives great light while applying my make up. Very satisfied and quick delivery too. Good price also.
Verified
deborah, 17 January
I ordered a few products and I'm very impressed
I ordered a few products and I'm impressed with what i have received. I order 2 Bar bright lights( 1 for my walk in pantry and 1 for my porch)-These were perfect as I don't have lights in these places and didn't want the hassle of getting lights installed by an electrician. I use them on sensor mode and they give out great light. I also ordered the simple sheets and they wash my clothes etc great. The fizzy foam for toilet is great for cleaning the toilet and the Vac mate is great for getting into small spaces to hoover up the dirt and dust. Would recommend must have ideas
Verified
Andy, 25 December
Nice small family run business with…
Nice small family run business with some great products so will definately be buying from them again. Purchased their magnetic ball lights which are fantastic as they have 'Chip on Board' technology and are super bright and also have the motion sensor too which is great. Check out their website, defiantely have a look guys as their prices are pretty decent too I must say.
Verified
cmclean, 16 December
A company which has a good variety of useful items and gives helpful and friendly service.
I've only recently started to purchase from this company and so far I'm very happy with items and service received. My favourites are the Bright Bars which are both useful and decorative, give off a really bright light useful for dark corners and are attractive placed on an internal staircase, the Mould Magic Extreme was easy to use and worked very effectively removing black mould from old veluxe window frames, the Simple Seal used along the back of my bath has tidied up the join between my bath and tiles, the Wonder Wrap bags have made wrapping Christmas gifts so much easier saving my old arthritic fingers a lot of time and pain, and the microfibre cloths are excellent for dusting and general cleaning. I haven't quite got the knack of the Sumo Strip yet, I found it tricky to separate the backing tape from the sticky side but hopefully will get help with that from my nephew. In all it's a company worth looking out for and I highly recommend it. Helpful and friendly too.
Verified
Richard, 03 November
Great Company, Great Service
As a disabled person, I'm always looking for items to help me with every day items and this company finds items, and sends an email to me with details. It's a one stop online shop and it's reasonably priced and has plenty of good quality items. I bought some magnetic lights which stand alone, chargeable by USB cable, have 3 settings (on, movement and off), and adjustable brightness. I have them on movement sensor so I can save on electricity as they light up the room when I enter it in the dark. Website is easy to use and ordering is straightforward, and my items arrived safely, well packaged and within the delivery time frame. Definitely recommend this company and will be using them again.
Verified
Allan Shepard, 05 October
LED strip lights rechargeable
I really like must have ideas this company are really good extremely friendly very professional I bought some strip lights off them again really good price well made I bought quite a lot of stuff off must have ideas and they're really good it's well made and the lights are rechargeable so all good
Verified
May, 14 August
Lights the way!
Really pleased with the Bright bar which is now magnetically attached to our landing radiator & works perfectly to light our way to the bathroom. Contemplating buying another for a corner of our kitchen - just waiting for darker days
Verified
Mrs Trudy Chapman, 09 August
What a fantastic purchase
I have just had delivery of my Bright Bar and I am so so pleased with this purchase. In my kitchen I only have top units on one wall,with under door lighting, the other side of my kitchen is dark. But not anymore I have put this at the top of my metal splash back so no more dark parts. I cannot believe how cheap this is. It comes with a usb cable,so no batteries. It also has a sensor mode,which I am using, it turns off within a minute of no movement. Thank you xx
Verified
Mrs francesca goode, 27 June
Have purchased a few things now and am…
Have purchased a few things now and am slowly becoming addicted to the site! There's so much good stuff!! The magic mould has been fab so far (tho time will tell if it comes back), the space saver hangers work brilliantly, the fresh discs really do work. Nothing has spoiled to date. Haven't noticed anything special with the toilet cleaners but have to say my favourite product so far has to be the bright light bars. My sons are awful for leaving the bathroom and toilet lights on so I got 2 of these, stuck them on the ceiling and set them to motion sensor mode. They work absolutely brilliantly giving off more than enough light and haven't had to recharge either of them yet.
Verified
peter newton, 22 June
Bright bar...cool white
Was looking for some lights to illuminate the work surfaces in our kitchen without having to put the fluorescent tube light on all the time. These do a good job, give off plenty of light and are rechargeable. The magnetic strips enable them to be fixed to the underside of our kitchen cupboards but equally they can be fitted anywhere. I'm thinking of buying some more to place along the edges of our stairs for use at night as they can switch on by detection of movement. Excellent buy.
Verified
Denise Britton, 22 June
Bright light
Long bar type light which can be used portable or using magnets supplied can be attached to most surfaces. Light brightness can be changed from a low light to a much brighter one. One switch controls three positions: constantly on, intermittent and off. Would recommend.
Verified
Mrs T Taylor, 19 June
Great product!
Used these lights for under cupboard illumination of the worktop and they are great! Also, the fact that there are no electrical wires or batteries required makes them even better.
Verified
jacky, 24 February
Excellent Service and Products
Very impressed with the quality of products I have purchased. Under bed storage boxes, Bright bar lights, Mould Magic and more. Great customer service and P&P is very good. I would highly recommend this company and will be purchasing from them again very soon
Verified
Jill, 10 February
Excellent product
Have bought battery lights to highlight my kitchen worktops in the past but they were dim and batteries always running out so the Bright light looked perfect- and it is!! They arrived very quickly and are now installed and I love them, in fact so good I bought additional ones for a friend. Would definitely recommend the light and the company.