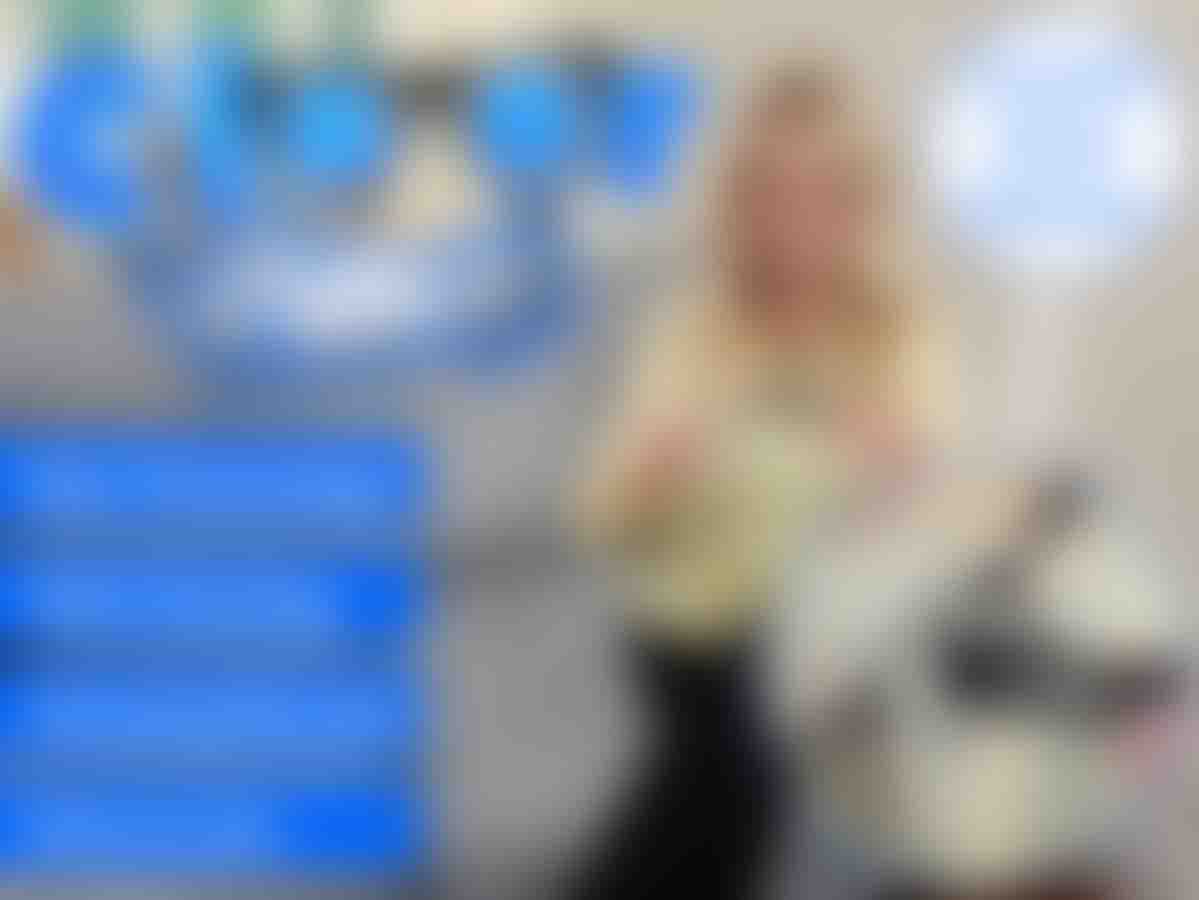 Our customers say
Excellent
4.7

out of 5 based on
99,805 reviews

Our customers say
Excellent
4.7

out of 5 based on
99,805 reviews

Crystal Clear Glasses Without The Fuss
For all types of eyeglasses, reading glasses & sunglasses
Isn't life better when you can see the world through crystal clean glasses?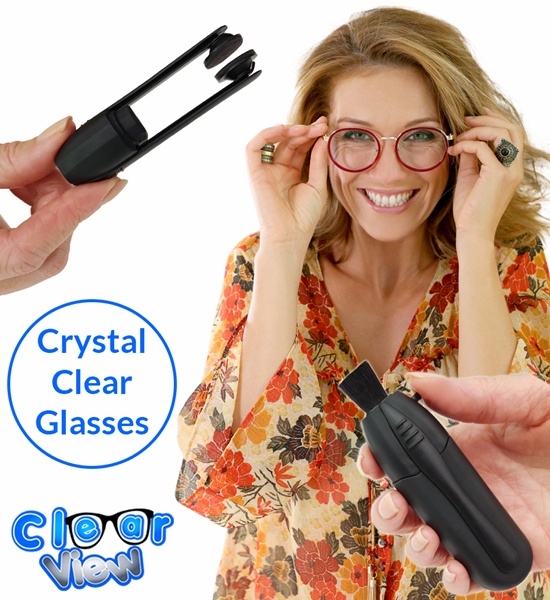 Isn't life better when you can see the world through crystal clean glasses?
Perfect for eyeglasses, reading glasses & sunglasses
The new Clear View glasses cleaner is the simple, easy and amazingly effective way to get crystal-clear, smudge-free glasses every time.
It's compact and small enough to slip into a pocket, handbag or glove-box so you can forget using cloths, wipes or the hem of your t-shirt to clean your glasses - from now on carry Clear View with you and you'll always have spotlessly clean glasses.
NASA Technology
Clear View uses ground-breaking technology developed by NASA for use on the International Space Station. The secret is the two carbon-coated cleaning pads which work together to easily remove fingerprints, streaks, smudges, grease, grime, and dirt safely and easily from your glasses. It's simple, easy and super effective.
Will never scratch or damage
Clear View has been designed to never scratch, scuff or damage your expensive glasses or sunglasses. You can trust Clear View to give you a superior clean without any hassle.
Self-Cleaning
And better still, Located inside the cover is a special cleaning pad so every time you put Clear View back into it's cover, the carbon coated pads are refreshed and revitalised, ready to go again.
With Clear View you always get a fantastic result and crystal clear glasses.
Just 3 easy steps to perfectly clean glasses
1. Brush
Use the retractable brush to gently remove any debris from your lenses
2. Wipe
Wipe the precision carbon cleaning pads over the lenses, cleaning both sides at once
3. Enjoy
Enjoy crystal clear eyeglasses, reading glasses and sunglasses every time
Engineered to give you the cleanest glasses possible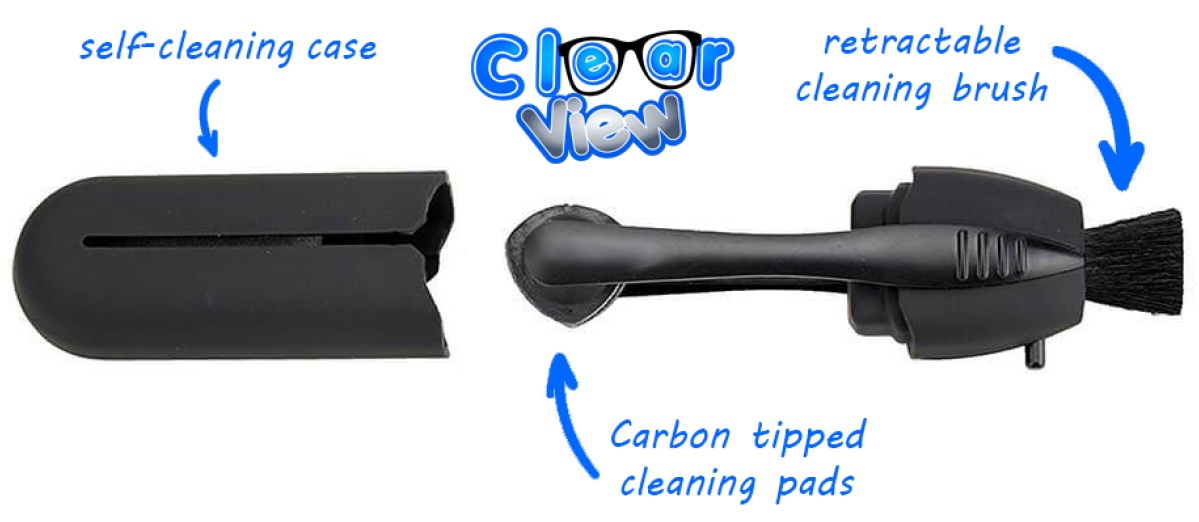 "Works like a dream"
"It does exactly what it says and leaves your glasses sparkling clean with not much effort.
It is compact and much less fuss than using wipes. No waste to dispose of.
We also noticed that our glasses seem to stay clean longer. Well worth the price, good product!"
- Debbie, Huddersfield

FLASH SALE: LIMITED TIME ONLY
FLASH SALE:
LIMITED TIME ONLY
40% OFF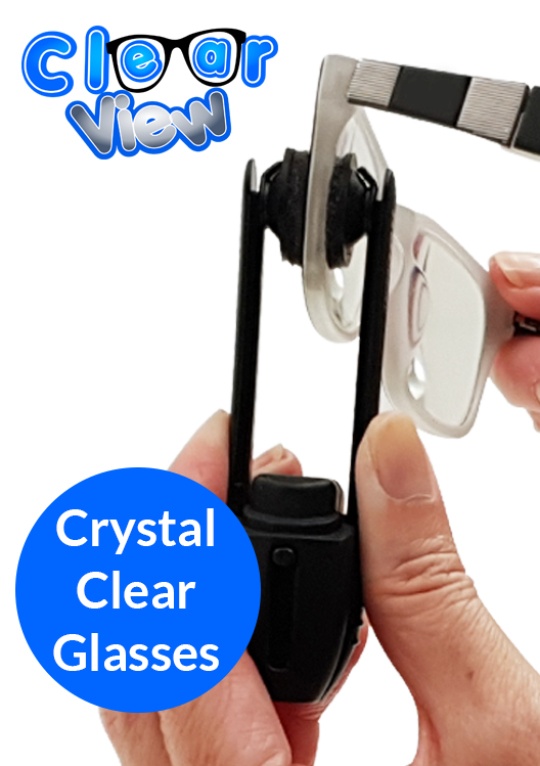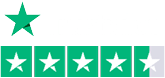 Rated Excellent
4.7 out of 5
99,805 reviews
Get your
Clear View
today and
SAVE 40%
USUALLY £19.99
JUST £11.99
Or Pay it in 4 with

Info
Order now for guaranteed delivery by:
Saturday 2nd December
Crystal clear glasses without the fuss
Why shop with us?

2 working day delivery guaranteed

Family owned & run

British business (110 staff)

83,962 5 star reviews

Over 2.2 million happy customers
2 Working Day Delivery
Tracked with Royal Mail
from family-run UK business
No Quibble 100-Day
Money Back Guarantee
UK based customer services
Hassle-Free
Returns Guarantee
Returning items is quick & easy
Customer Reviews Powered By
Excellent
Based on 88,555 reviews on

Verified
Norma Smith, 18 August
Awesome products, amazing prices!
I've bought a few items from Must Have Ideas... these include Mould Magic, Pinkcredibles, PipePal, the long reach duster for getting in the radiator nooks and crannies, and the truly amazing food saver green bags...(the money I've saved on food waste since using these is fabulous!) My latest purchase has been Nanna's Secret... omg it's amazing! Thank you 'Must Have Ideas' for your truly awesome and reasonably priced products... I have no worries whatsoever about recommending this wonderful company.
Verified
William Dalzell, 09 August
Great family company with lots of super ideas
Great family company with lots of super ideas and helpful solutions to the usual daily obstacles. The items are always boxed well and the instructions are ace. You can tell this company pays attention to the small details and that is what makes them stand out from the crowd. This is why Must Have Ideas are my go to domestic help :) Well done Amy and best of luck going forward!
Verified
Alan Brown, 02 August
Excellent company to deal with
The product I purchased online from this company turned out to be amazing. The whole experience with this company has been perfect, kept up to date on progress of order plus delivered quicker than expected.
Verified
Denise, 30 July
Never disappoints.
I've had several things now from this company and have never been disappointed. Easy process to order, quick delivery and items did what they claimed to do. I can highly recommend 'Must Have Ideas'.
Verified
Pete Bessant, 29 July
You should realy rename this site to:- Must Have Neat Ideas
What makes this website so good is the abundance of neat ideas and ultra useful gizmo's, not only that, it's the speed at which they get orders out to customers
Verified
Susan W, 29 July
Absolutely everything is great
Absolutely everything is great. Advertisements, type of products, ordering, communication and delivery. The process made me feel like there is great care given to everything including the customer.
Verified
E A C Melrose, 20 July
Excellent merchandise
Excellent website with a large range and selection of useful items. Very competitive prices, easy to order and quick delivery. I have been delighted with everything I have ordered and highly recommend this company
Verified
H Cullen, 17 July
Have bought from this company 2-3 times…
Have bought from this company 2-3 times and would recommend them. Items received on time every time. Everything I have bought, has been very good and does what it says.
Verified
Catherine Sadd, 17 July
Fantastic products,quick delivery.Last…
Fantastic products,quick delivery.Last but not least stupendous c Ustomer service 👏👏👏a big thank you to all involved in company.👍😊👍😊
Verified
Chris Barnwell, 17 July
Unique, useful products at great prices.
Great range of very useful products and a website that is easy to use. Products I ordered are as described and prices were extremely competetitive in fact much less then I thought they would be. Delivery was swift and arrived on time. Thank you.
Verified
Julia, 17 July
Amazing better broom it's fantastic it…
Amazing better broom it's fantastic it was so good I ordered a second for my mum .I also ordered the pet hair cleaner that too is fabulous I must say everything I've had has been exactly as described. The delivery was quick two days and you always get a thank you from them and 20% off your next order I think they are a lovely company best I've dealt with in a long time.
Verified
Patrick Mcnally, 16 July
Great company 5 star service
Great company 5 star service
Verified
Susan, 05 July
Great quality
Great quality and excellent service
Verified
Julie Thomas, 03 July
Excellent product well packaged quick…
Excellent product well packaged quick delivery Excellent customer service and communication Would buy from them again
Verified
colette gaffney, 03 July
Amazing company
Amazing company. The products do exactly as described.Have been delighted with all my purchases.
Verified
janjo, 02 July
First class company.
Anything I have bought from your company has been first class. Your turn around of orders is like no other company I have dealt with. Keep up the good work
Verified
Mrs MARILYN MERCER, 02 July
There products are fantastic exactly as shown on web site.
There products are fantastic do exactly what they say the lady on the phone is so helpful. A truly family experience. Love this site.
Verified
MR GARETH HAWKINS, 02 July
Excellent communication and service
Excellent communication and service. Excellent quality goods. Really quick delivery and reasonably priced and well packaged. Well done to all the team keep up your excellent work.
Verified
AMH, 30 June
Well done "Must Have Ideas"
Good options, great prices, fast delivery and exceptional customer service. All of these when combined, ensure that I will purchase again soon and that I will definitely continue you recommend "Must Have Ideas" to family, friends and colleagues.
Verified
Nick, 30 June
Must have ideas
Goods are with me in about two days of ordering. Very honest descriptions of goods im ordering. Will definitely be ordering other items in the future. Lovely to find an honest and loyal company that i can have total faith in. Thank you.