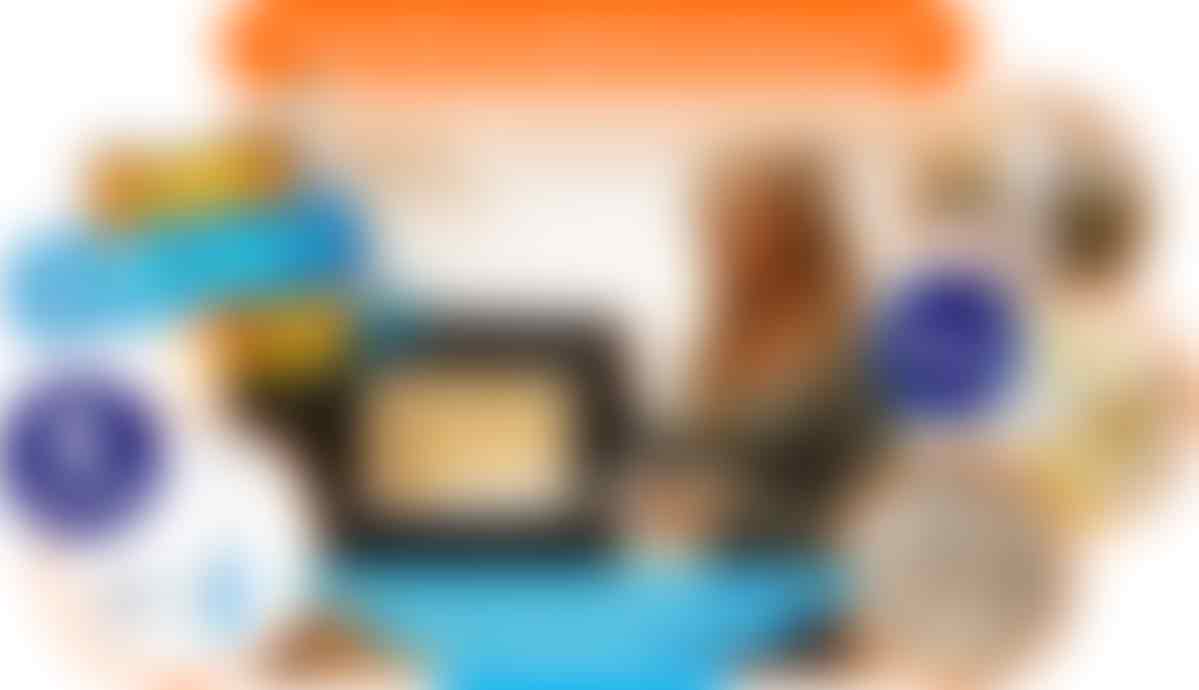 Our customers say
Excellent
4.7

out of 5 based on
99,805 reviews

Our customers say
Excellent
4.7

out of 5 based on
99,805 reviews

Easy Clean 360 is the new, portable scrubbing powerhouse that fits in the palm of your hand and
TAKES THE HARD WORK OUT OF CLEANING your home, garden and car!
The advanced sonic oscillation technology enables any of the four impressive scrubbing heads to
rotate at 3,000 RPM to POWER THROUGH DIRT, GREASE & GRIME with ease.
Now cleaning doesn't have to take all day – BLAST THROUGH THOSE SCRUBBING JOBS
in seconds and all without breaking a sweat.
3,000 Scrubs Per Minute
4 Long-lasting Brush Heads Included
Scrubbing, Cleaning, Polishing
Dishwasher Safe
Lightweight & Easy To Use
Battery Powered (4 X AA)
Let Easy Clean 360
Do The Hard Work
So You Don't Have To!
3,000 scrubs per minute effortlessly powers through dirt, grease & grime
The secret is the advanced sonic oscillation technology that delivers high-torque, powerful cleaning right where you need it
The Right Brush
Head For Every Job
Quick-Change system makes brush-changes a breeze to shift grime, fast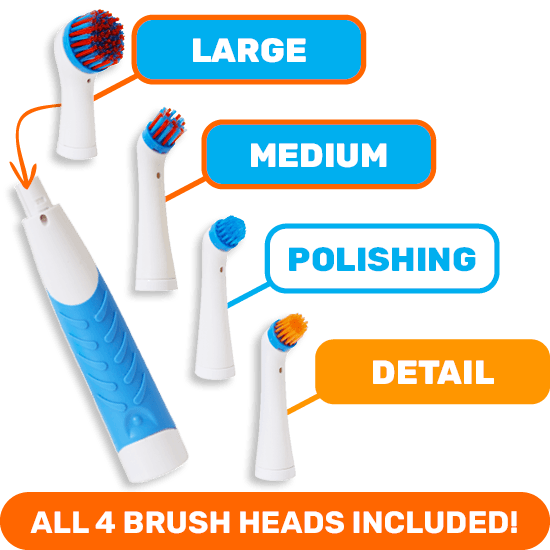 Easily snap on the right brush for the job & experience fast, effortless cleaning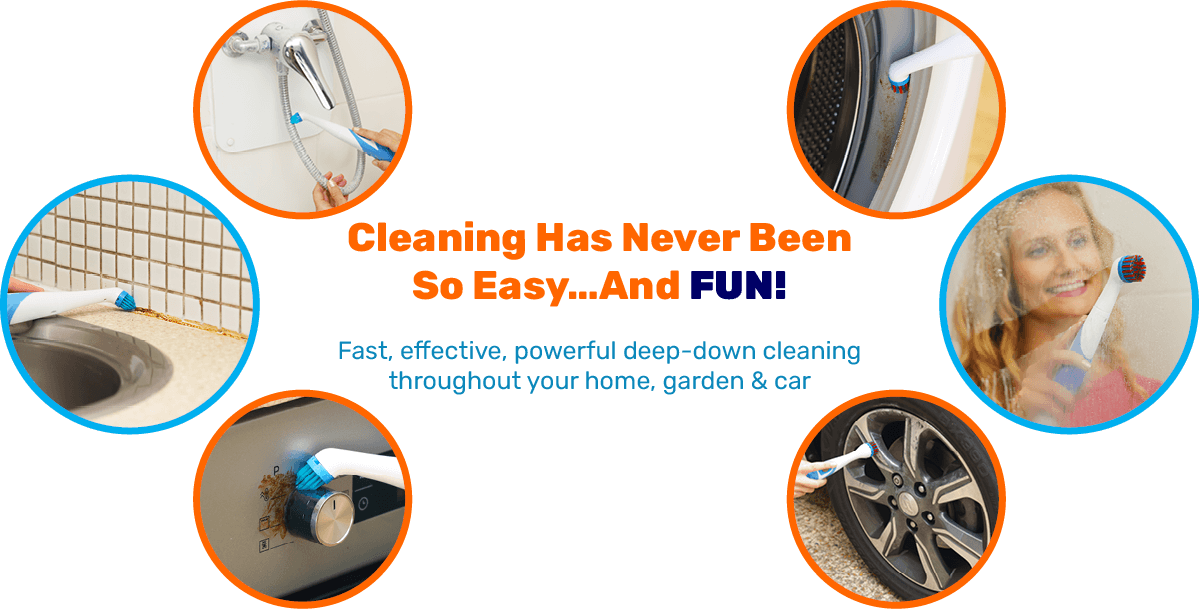 Easy Clean 360
Takes The
Hard Work Out Of Cleaning
ZERO Elbow Grease Required • It's effortless to get amazing results
ZERO Elbow Grease Required
It's effortless to get amazing results
Impressive results
in seconds
Impressive results
in seconds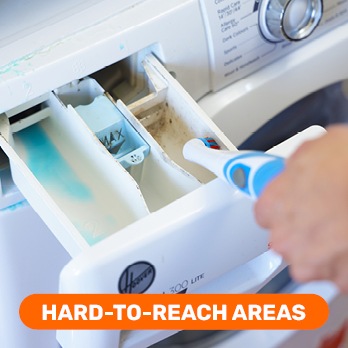 Get into ALL those nooks
& crannies with ease
Get into ALL those
nooks & crannies
with ease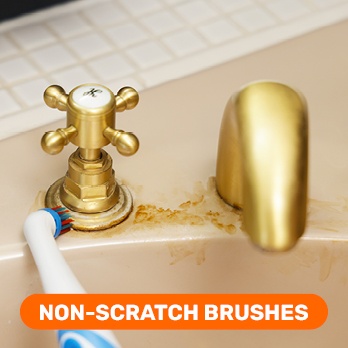 Restore the shine
- Guaranteed
Restore the shine
- Guaranteed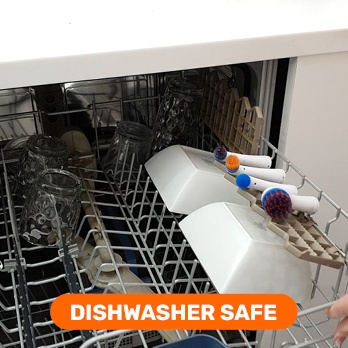 Ready For
Next Time
Ready For
Next Time

FLASH SALE: LIMITED TIME ONLY
FLASH SALE:
LIMITED TIME ONLY
SAVE 40%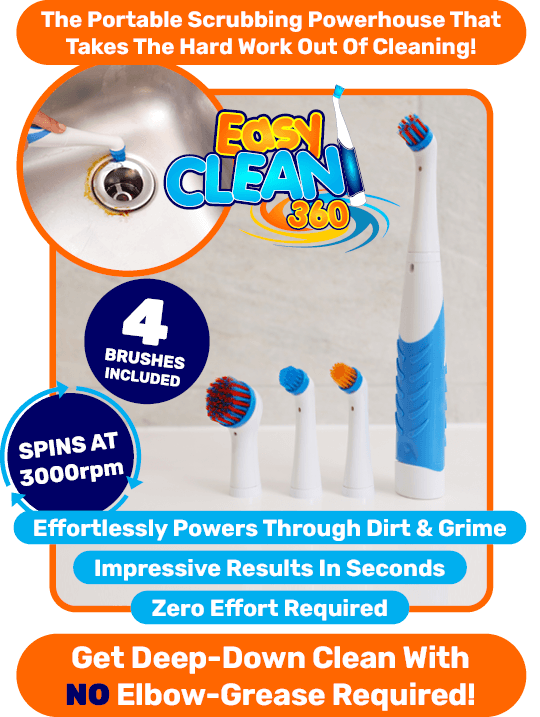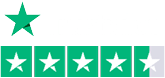 Rated Excellent
4.7 out of 5
99,805 reviews
Get your
Easy Clean 360
today and
SAVE 40%
USUALLY £24.99
JUST £14.99
Or Pay it in 4 with

Info
Order now for guaranteed delivery by:
Saturday 2nd December
Effortless cleaning
Why shop with us?

2 working day delivery guaranteed

Family owned & run

British business (110 staff)

83,962 5 star reviews

Over 2.2 million happy customers
2 Working Day Delivery
Tracked with Royal Mail
from family-run UK business
No Quibble 100-Day
Money Back Guarantee
UK based customer services
Hassle-Free
Returns Guarantee
Returning items is quick & easy
Customer Reviews Powered By
Excellent
Based on 88,555 reviews on

Verified
James L Tinsley, 03 July
must have ideas makes life easy
I like the things I've bought the hair hero makes it easier to clean my hairbrush not only that I had a struggle to get batteries out of remote controls and computer mouse but not any more and my easy clean 360 makes cleaning easy will be sending another order in this week
Verified
Bilbo's mum, 28 May
A great cleaning gadget
Just received the order of electric Easy Clean 360. Also ordered a second one for my daughter she loves it. Four heads and 3000rpm will clean anywhere that's hard to get to! A great gadget for everyone.
Verified
Jean Wild, 26 May
Cleaning problem solved. The gadget helps me clean shower and…
The gadget helps me clean shower and tiles, as we have hard water and I have wrist and thumb problems. Your enquiry line showed me how to use correctly to keep the head turning without depressing the button continually as I thought at first. I like the look of some more products too.
Verified
Diane Millen, 07 May
Something great for those awkward spaces!
A really useful gadget with its varied heads - I have only used it a few times, but I'm most impressed with the results.
Verified
Angie, 05 May
Quick delivery
Quick delivery. Love the better brush, great for sweeping dog hairs up. Bought the easy clean 360 but haven't used it yet.
Verified
Angela Roman, 04 May
Very Impressed
I purchased several items, all of which arrived in good time after ordering and was very impressed with it all but wow the Easy clean 360 is a game changer, it has cleaned away stains that I have been trying to scrub for years. Im absolutely thrilled with it and the pricing is very reasonable.
Verified
Jaki Spencer, 03 May
Bought this for my bathroom shower…
Bought this for my bathroom shower tiles to clean the grout, well made and comes with spare heads for different jobs! Great delivery! Excellent product!
Verified
Dawn coyles Customer, 26 April
Great little tool for cleaning hard to…
Great little tool for cleaning hard to reach areas. Made well and easy to assemble
Verified
Customer, 05 February
Great Easy Clean 360
Very quick delivery of the Easy Clean 360. What a great product this is, especially in the bathroom! Love it so much I'm going to get another for the kitchen.
Verified
Mrs Ahmed, 04 February
Easy clean 360 battery operated cleaner…
Easy clean 360 battery operated cleaner with changeable heads. Just used to clean my air fryer, the oven kind, haven't been able to reach the element and fan area without turning myself or the AF upside down! This gadget did the job perfectly. Used different heads for different areas, easy peasy
Verified
Liz, 01 February
Highly recommended brush
The battery powered scrubbing brush arrived quickly and suitably packaged. It's a great cleaning tool, with some spray bleach it removed the grease from the cooker hood, wall tiles and cupboards. The 4 different brush heads were great for different areas. Highly recommended.
Verified
Karen Wilmshurst, 24 January
Brilliant innovative products
Brilliant innovative products. I've bought Easy clean 360 & data defender, so far. Both do a brilliant job, easy buying experience & efficient delivery. Will be buying more!
Verified
Avril Elaine Mckay, 21 January
Easy Clean Brush
I ordered 4 of these as gifts (one for myself!) Very straightforward, efficient process. Arrived in 3 days. Terrific, compact little brush with 4 interchangeable heads. So relieved they work as I had to return other similar faulty brushes of a different brand to another supplier. Wouldn't hesitate to use musthaveideas again!
Verified
Jane Donald, 08 July
Easy Clean 360
Just received the easy clean 360 and have just cleaned the shower tiles. It was so much quicker and easier than the old way...... with a toothbrush between the tiles!! Brilliant buy.
Verified
Mary Devine, 13 December
Brilliant device
Bought the 360 Easy Clean on a whim thinking it will be handy to have. I used it in my bathroom this weekend and wow I didn't realise how good it is. My grout has come up cleaner, the small water marks on my taps have gone, my mosaic tiles are round the sink are gleaming. It did take time but so pleased with the results. Can't wait to try it on the kitchen now..
Verified
Julie Phizacklea, 16 January
Fantastic little gadgets
Fantastic little gadgets! The scraper was great for cleaning up spilt candle wax. Definitely will buy from Must Have Ideas again.
Verified
Kay S Ager, 16 January
This product does a great job
This product does a great job. I wanted it particularly for the the gap between my shutters and the windows and also for drawers. My only disappointment is that it doesn't fit onto my cordless Dyson. I can work round it as I have an upright that it does fit on just not as convenient.
Verified
Hilary Bampton, 14 January
Blessed relief
Over the years I have found it so frustrating at not being able to reach the bottom of small, but precious vases etc. You have solved my problem. As for the skirting board cleaner, my aching back thanks you from the bottom of my heart!
Verified
Hannah, 10 January
Very happy
I was very happy with the personal touch in all communications with Must Have Ideas, and the product itself - an Easy Clean 360 is a clever and effective device. I was a bit dubious about ordering something I saw on a Facebook advert, and have never actually done this before, but Must Have Ideas were excellent. It feels good to use a family run business too. Thank you Amy and co.
Verified
Mary D, 05 November
Fantastic service
Fantastic service. First purchase didn't work. Phoned company and spoke to Aimee who was so helpful. Guided me through battery insertion but still didn't work. Have just received a replacement which is working and am thrilled. Thank you so much.