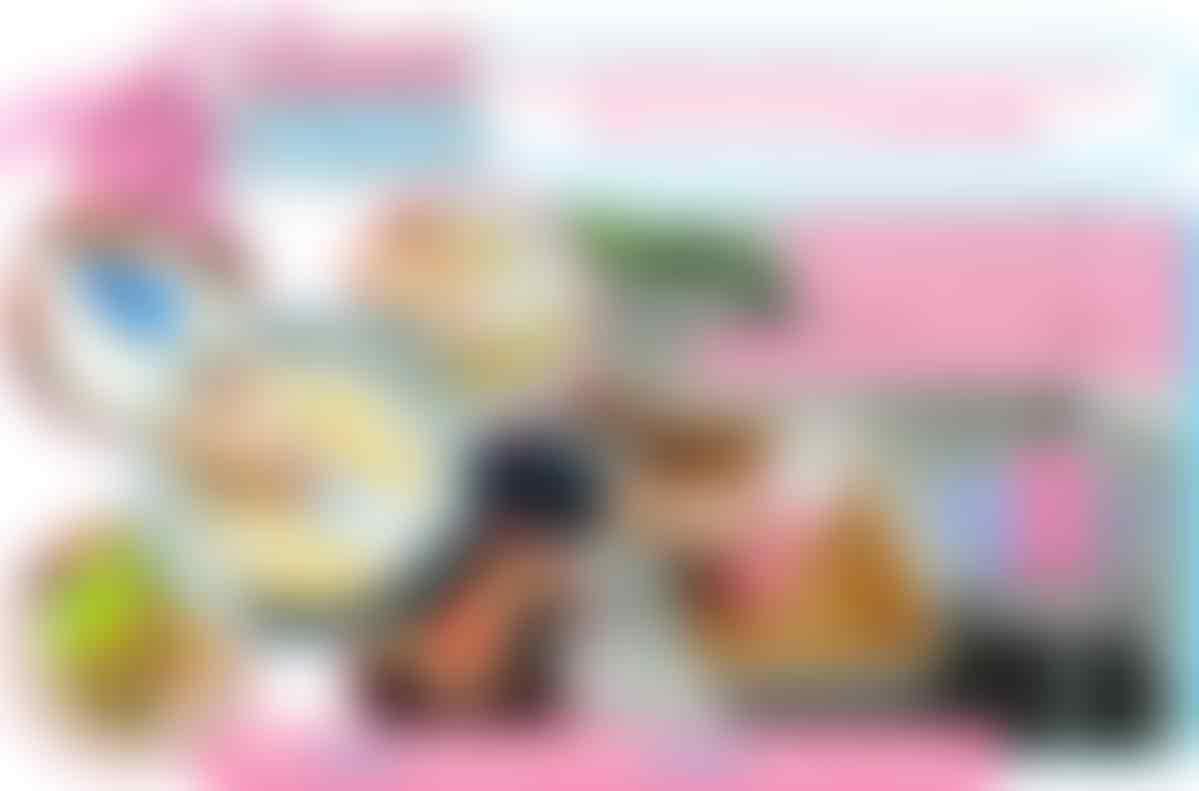 Our customers say
Excellent
4.7

out of 5 based on
99,805 reviews

Our customers say
Excellent
4.7

out of 5 based on
99,805 reviews

Normal kitchen sponges are a breeding ground for BACTERIA. That's why they start to smell
after just a day or two and constantly need to
be replaced.
The solution? Hygiene Hero is the hygienic, new, antibacterial alternative, that will last you a
LIFETIME and never
needs replacing.
Made from 100%
anti-bacterial, premium, food-grade silicone, it never smells, never gets mouldy
and
never stains.
Antibacterial
Will Last A Lifetime
Powerful Cleaning
Never Smells
Dishwasher Safe
Pack Of 3
60% Of UK Kitchen
Sponges And Cloths
Are Contaminated
With E.Coli*
Are you still using disgusting, 1950's sponges or cloths to clean your dishes?
60% Of UK Kitchen
Sponges And Cloths Are
Contaminated With E.Coli*
Are you still using disgusting, 1950's sponges or cloths to clean your dishes?
Hygiene Hero is the hygienic, anti-bacterial alternative that protects your family from bacteria, mould & mildew
*According to the Global Hygiene Council Study, 2014
SAVE MONEY:
This Is The LAST Sponge You'll EVER Need To Buy
STOP wasting money replacing your gross old-fashioned kitchen sponge every few days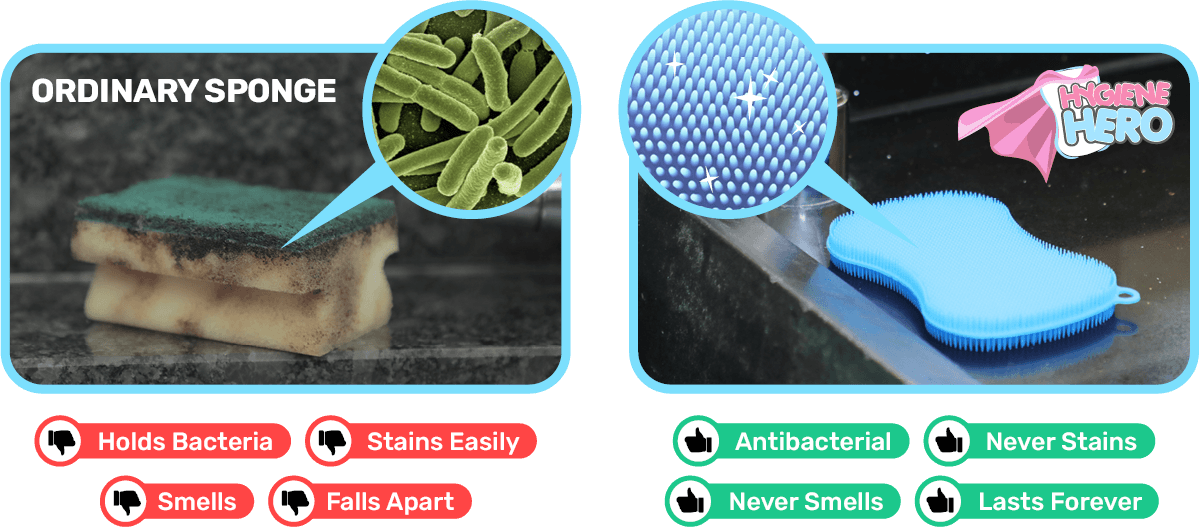 Hygiene Hero will last you a lifetime of powerful, effective,
anti-bacterial cleaning

Much MORE Than Just An Antibacterial Sponge…


FLASH SALE: LIMITED TIME ONLY
FLASH SALE:
LIMITED TIME ONLY
SAVE 50%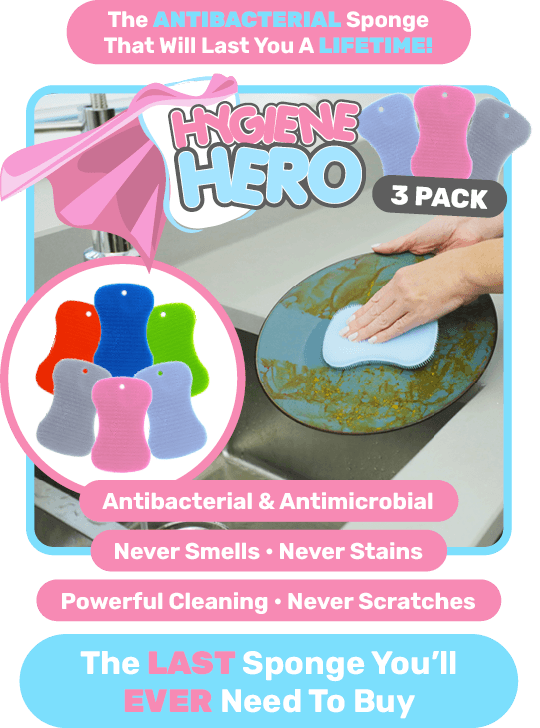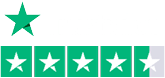 Rated Excellent
4.7 out of 5
99,805 reviews
Get your
Hygiene Hero
today and
SAVE 50%
USUALLY £23.99
JUST £11.99
Or Pay it in 4 with

Info
Order now for guaranteed delivery by:
Saturday 2nd December
Say goodbye to smelly, gross sponges!
Why shop with us?

2 working day delivery guaranteed

Family owned & run

British business (110 staff)

83,962 5 star reviews

Over 2.2 million happy customers
2 Working Day Delivery
Tracked with Royal Mail
from family-run UK business
No Quibble 100-Day
Money Back Guarantee
UK based customer services
Hassle-Free
Returns Guarantee
Returning items is quick & easy
Customer Reviews Powered By
Excellent
Based on 88,555 reviews on

Verified
Deborah Bruce, 15 June
Items arrived quickly
Items arrived quickly, well packaged. I love the hygienic silicone dishwashing 'sponge' and the Mighty Brighty lights are now in place ready to illuminate some dark cupboards, making it much easier to find what you're looking for.
Verified
andrea, 06 May
Love this site!!
Love this site, loads of fantastic products to choose from, I've bought quite a few products but I especially like the hygiene hero to replace sponges, microfiber cloths which have left my shower screen sparkling and streak free! The self wringing mop is good, and the genie toilet brush doesn't drip everywhere and you get clean right under the rim. The magic mould is just brilliant, I tried everything to remove mould from my washing machine, I did give it two go's but it's removed every single trace of mould...amazing stuff! Shipping was in two days and all were packaged very well. Fantastic site that sells amazing products that really do work.
Verified
Claire Vernon, 20 April
I have now made 2 purchases
I have now made 2 purchases, the samurai sharp which is excellent, really fast delivery too! I also bought the hygiene hero sponges, love them! Will definitely use Must have ideas again and again I'm sure 🙂
Verified
Sara, 10 December
Very happy
Excellent communication throughout and was very pleased with my Hygiene Heroes. Great to be able to reduce reliance on double sided sponges.
Verified
Sunita Johal, 06 December
Wow! Fabulous products and service!
Wow!! The products are absolutely awesome! It started with the Jasmine laundry sheets which smell great and are good for the environment and are vegan friendly. I've got the drain cleaners which did its job and works with ease. The magic mop has saved me so much time and when I did a Hand-wash, the water was dripping from the airer, the mop came to the rescue, hooray! You can use it to mop up spills and clean floors and windows by adding some water to the mop head or whatever you use to clean. I've also got the silicone sponges, but just be aware, they don't mop up water. If cleaning surfaces, it leaves water residue so it's not very absorbent but they are easy to use when washing up plates etc and they came into use when hot pans needed to rest somewhere. I've even used them to open bottles too. The long and short dusters are awesome too! Ohhh, another fave is the silicone loo brush, it's fab!!! It cleans right under the rim! I have to be careful, it can be a little too exciting when buying products which can make cleaning life easy. The products come all wrapped up in a box, and you do get warned about a delay due to postal strikes. I would definitely recommend Must Have Ideas. They have saved me so much time in my day to day chores, thank you, Sun, :).
Verified
Lynne Jones, 05 December
Great items
Great items!!! Everything I have bought from Must Have Ideas are brilliant!!! 'Slice and Dice' used it over weekend for first time. Easy to use and made my life a lot easier do the vegetables for a casserole. The 'Better Brush' is excellent for cleaning in and outside. Washed it in the dishwasher came up lovely. Prior to these purchases I bought 'Access All Areas' brushes, which I find really useful for sports bottles and jars. 'Hygiene Hero' great to use on the dishes. I can also put in the dishwasher to clean it which is great. And last but not least I purchased 'Skirting Board Buddy'. I have trouble bending to the floor the long pole on this is a great help for me. I also use it for the door frames and the pads wash well! Thoroughly recommend any of these products from Must Have Ideas.
Verified
Jackie Hammond, 06 April
I bought the kitchen hero and I am very…
I bought the kitchen hero and I am very happy with them I love that they are so multi purpose and I really like the vibrant colours
Verified
customer, 02 June
I ordered a silicone loo brush and a…
I ordered a silicone loo brush and a pack of silicone sponges....they are fabulous!Out with the horrible,dirty looking loo brush that drips all over the floor...the unit is compact,sleek looking and ease itself to clean.There's barely any water in the bottom of the container,unlike with the conventional brush sets.I love it and it cleans exceptionally well,better than the old type brushes.The pack of sponges are great too...have one in the kitchen for washing up,and two upstairs,one for cleaning with and the other to use in the shower as a sponge,and they're fantastic.Just buy them! Delivery quick and the company keep in touch so you're not left wondering where your items are.Well done!
Verified
MRS ANGELA JONES, 17 April
Love my hygiene hero no more smelly…
Love my hygiene hero no more smelly clothes or sponges
Verified
C Baker, 11 March
All purpose sponges
Goods arrived on time and the sponges are as good as claimed
Verified
Julie Ward, 23 February
Welcome addition to my cleaning products!!
I love my brushes, they're super! After using little sponges for years & years they're a big welcome addition to my cleaning products. Unfortunately only 1 set out of the 2 that I ordered arrivved but after ringing and speaking to a lovely lady my 2nd set arrived as promised a few days later. Great products & great customer service! Thank you.
Verified
Anne, 06 January
I bought the silicone washing up…
I bought the silicone washing up brushes and they are excellent. I would also like to say the service an delivery was first class. Will use the site again
Verified
Susan Caplan, 03 January
Cleans stains out of cups and glasses…
Cleans stains out of cups and glasses easily
Verified
Alison Matthews, 02 January
Great little cleaning tools
The glass and bottle washes arrived really quickly and do far have worked really well. Haven't tried them on the toaster yet but for crystal glasses they were fantastic - got to the bottom but were gentle too.
Verified
Laura, 01 January
Great alternative to cloths as easy to…
Great alternative to cloths as easy to clean and no bacteria build up
Verified
Gabrielle , 22 December
Great product hygienic
Great product, above all it is very hygienic, which is what we need most especially with. COVID around. I would not go back to using the sponges etc.
Verified
Paul, 22 December
Clean with ease.
i got the Cleaning Pad for when i do the washing up as appose to using a Sponge , as it says these do not hold Bacteria ,they clean everything very well and nothing is left on them. i like how they are and feel, these will also last for along time ,so no need to keep buying over and over again, i also got the holder ,so they stay close to the sink, overall i cannot fault them. they arrived on time and i was kept informed of delivery. so i am very pleased.
Verified
Wai Kaye, 21 December
Great Item
Bought the clever sponge thing and it's great! Very useful in various scenarios, would highly recommend. Delivery was in decent time too.
Verified
Doreen, 09 November
Very happy with the service
Very happy with the service and the pads turned up quickly
Verified
Val B., 29 October
Good product and delivered promptly.
Good product and delivered promptly.