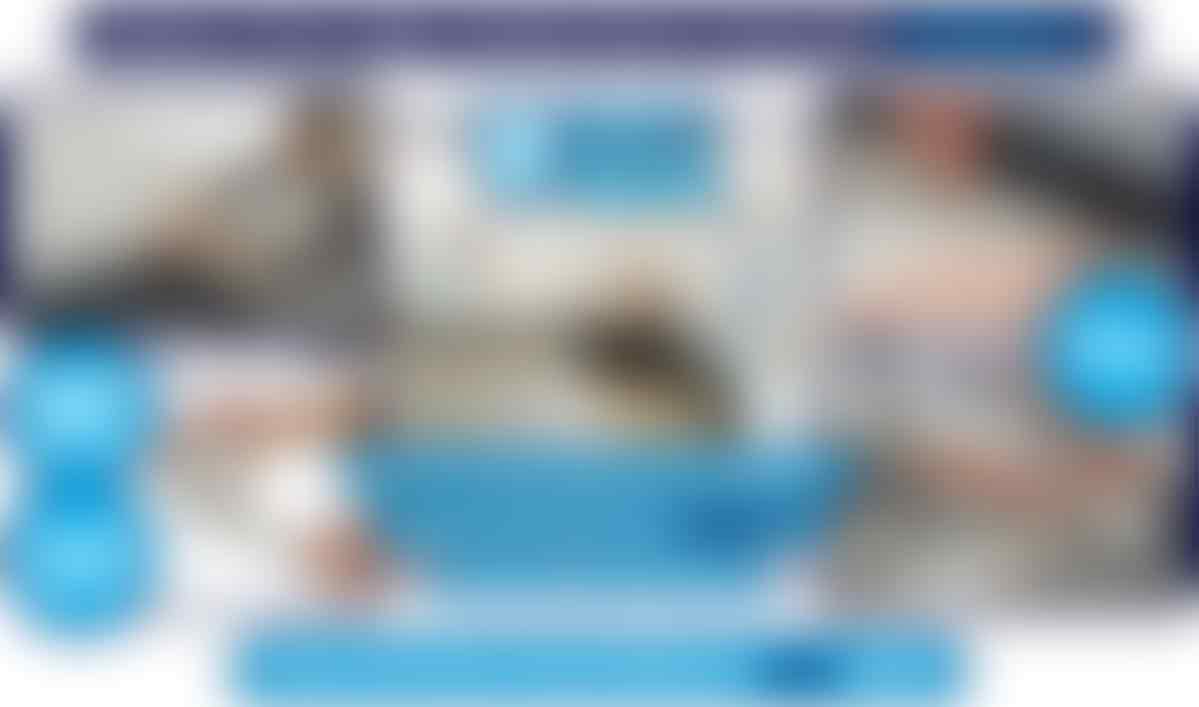 Our customers say
Excellent
4.7

out of 5 based on
99,807 reviews

Our customers say
Excellent
4.7

out of 5 based on
99,807 reviews

Replace those ugly, mouldy, drafty or leaking seals with Simple Seal, yourself, in just seconds.
Forget the cumbersome, messy caulk gun! With Simple Seal it's so EASY to get perfect results, with no tools or DIY experience needed.
Just peel and press into place for PERFECT seals, each and every time.
It just couldn't be easier to get rid of those ugly, mouldy seals and make your home look it's very best!
Yes, now you CAN do this yourself!
And as it's literally impossible for Simple Seal to ever go mouldy, it's guaranteed to be MOULD-FREE FOREVER!
Water Tight & Airtight Seal
Really Easy To Fit, No Tools Required
Super-Strong Self-Adhesive
Simply Cut With Scissors
Will NEVER Go Mouldy
Premium Quality To Last Forever
Choose Either A
3.5m Or 7m Roll
Get An INSTANT Transformation On Any Ugly Seal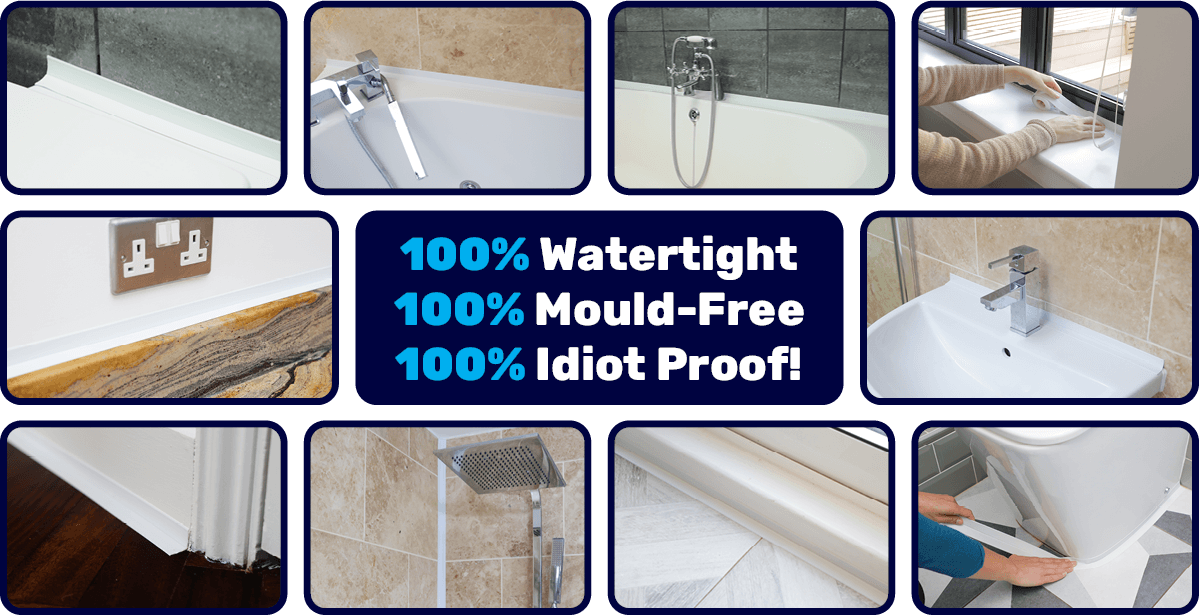 Sinks • Baths • Windows • Doors • Floors • Tiles • Showers • Toilets • Skirtings • Ceilings
Sinks • Baths • Windows • Doors
Floors • Tiles • Showers • Toilets
Skirtings • Ceilings
A Complete DUMMY Could Do This And Make It Look GREAT!
No DIY skills or tools needed to get a perfect line, every time

Turn DRAB To FAB In Just Seconds!
Perfect results ALWAYS with NO tools or skill needed!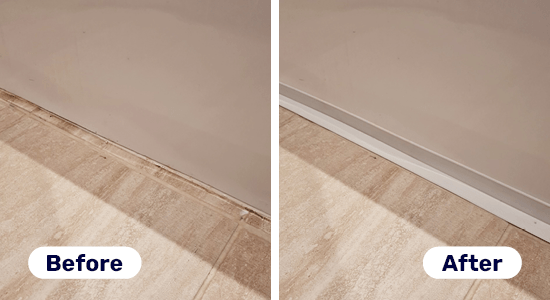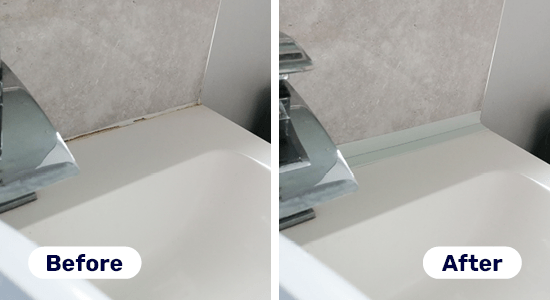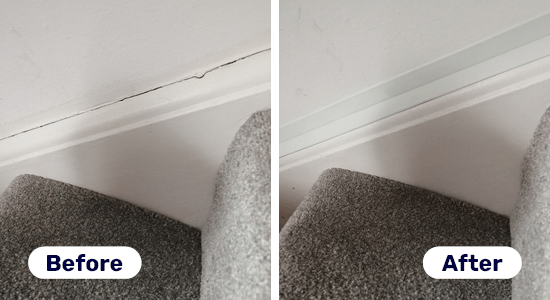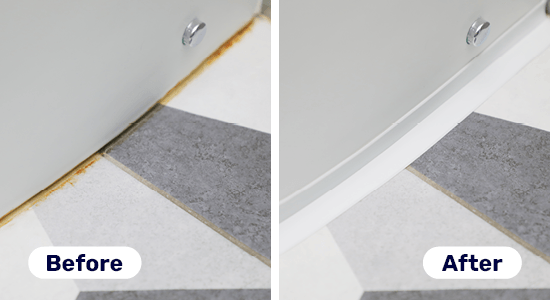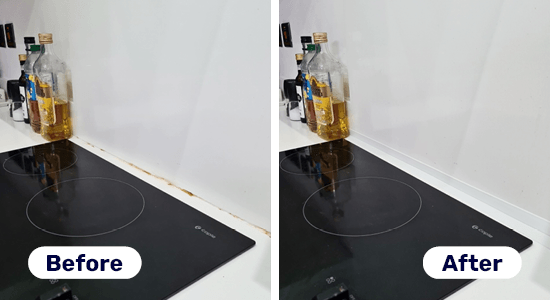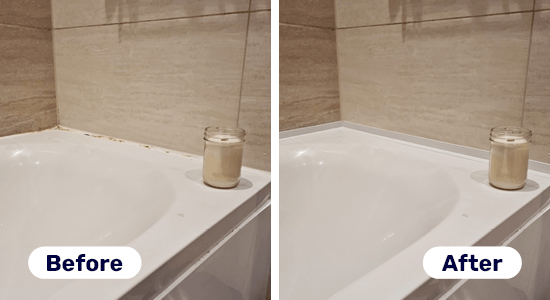 Transform Your Home In Just Seconds
Perfect results ALWAYS with NO tools or skill needed!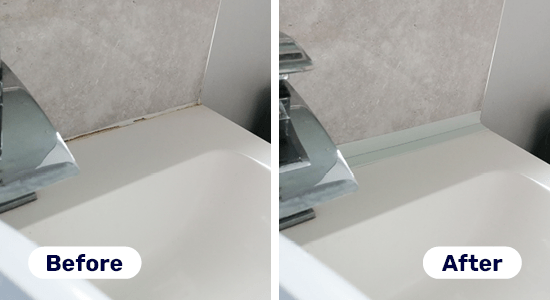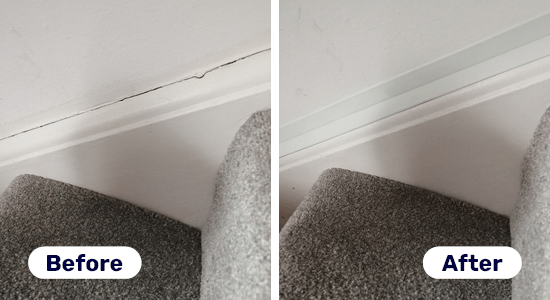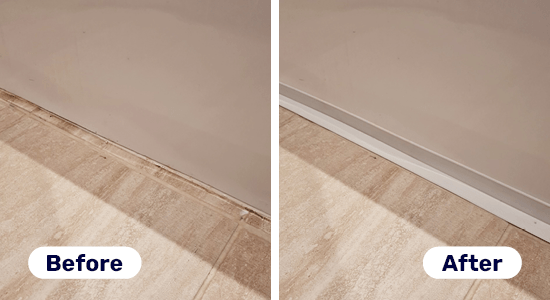 Guaranteed To Be Mould-Free FOREVER
Designed to contour and flex for easy installation and a water-tight fit anywhere
We Took The Worst, Most Difficult Job Around
The Home And Made It The EASIEST!
Put away the messy caulk gun.
You don't have to live with ugly seals any longer: YOU CAN DO IT
Easy-peasy to get perfect corners
Guaranteed to stay
mould-free FOREVER!
100% watertight & air tight, always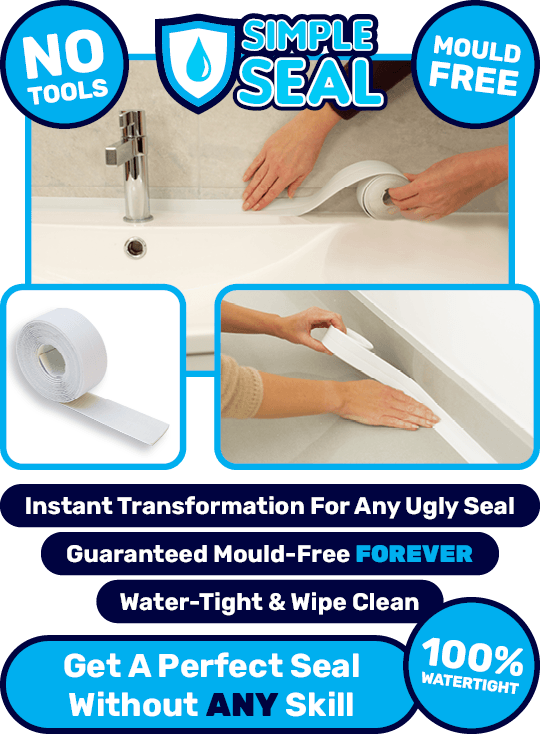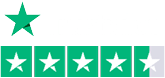 Rated Excellent
4.7 out of 5
99,807 reviews
Get your
Simple Seal
today and
SAVE
USUALLY £15.99
JUST £10.99
Or Pay it in 4 with

Info
Order now for guaranteed delivery by:
Monday 4th December
A perfect seal, without any skill
Why shop with us?

2 working day delivery guaranteed

Family owned & run

British business (110 staff)

83,964 5 star reviews

Over 2.2 million happy customers
2 Working Day Delivery
Tracked with Royal Mail
from family-run UK business
No Quibble 100-Day
Money Back Guarantee
UK based customer services
Hassle-Free
Returns Guarantee
Returning items is quick & easy
Customer Reviews Powered By
Excellent
Based on 88,556 reviews on

Verified
Debs, 21 August
Delivery was excellent
Delivery was excellent. Product just the best. The sealant around our windows look just like the day they were installed. Thank you Must Have Ideas 👍
Verified
TsiTsi , 20 August
This is an amazing and practical product..I have had…
This is an amazing product.I have had problems with the sealing around my kitchen and was at my wits end.The seal has just solved my problem I wondered why I had not known about it .I have used it in my bathroom too.It looks great too ,actually enhances the look of my edgings.Product delivered on time too.
Verified
Karen Elmstrom, 20 August
Must have ideas
All the goods that we have ordered have been brilliant.service from start of order and receiving the items are quick and packaged well.mold magic works and is a good product,.simple seal works and makes the bathroom finish outstanding.
Verified
Ken Brittan, 20 August
Bath sealing strip on a roll.
I fitted a new shower tray and after only a few months the black mold started to appear spoiling the new bathroom experience. I thought I would try a roll of bath sealer from Must Have Ideas. It arrived as promised and was east to apply. My shower is rejuvenated and I am so pleased. I am looking around for other uses of this wonderful product. I have no hesitation in recommending this product to friends and would use Must Have again.
Verified
Mr William Malcolm, 19 August
Reseal my shower
Liked how you kept me informed about delivery and time scales. Would certainly buy from your site if needed. Product was easy to use my daughter used it to reseal our shower. Definitely would recommend this product.
Verified
Customer Brian E Wiley, 15 August
Fast delivery, looks great
Fast delivery, great product, used to seal around worktop in our caravan, extremely sticky and looks good. I'll use more sealing around all the ceiling joints in the caravan, lots of uses for this product.
Verified
Ann Reekie, 04 August
Very pleased with my simple seal so…
Very pleased with my simple seal so easy to use highly recommend
Verified
Mr Dave Taylor, 01 August
Sealing strip
Prompt delivery and a great product. The sealer round our upvc back door kept splitting even though we replaced the sealant several times. This sealing strip was easy to use and looks good.
Verified
Wendy, 30 July
Simple Seal, quick, easy to fit and effective.
I bought Simple Seal to seal around my shower tray and to cover the stained grouting at the edge. It came with clear instructions and was very easy to fit. It's really freshed up the look of my bathroom.. I also used it to smarten up a corner in my downstairs toilet after a wall was replastered. Delivery was very quick. I can certainly recommend.
Verified
Carol Wright, 23 July
Good quality products at reasonable prices
I received my order quickly and we'll packaged. I ordered a roll of sealant for round the bath and toilet seat. It was just as advertised, easy to use and sticks well, I'm very happy with the product.
Verified
Joan Wood, 01 June
Excellent Service
Ordering from Must Have Ideas online was easy, delivery was very quick. I have used some of the Simple Seal on 2 windows & a door frame, it is so easy to apply and makes a big difference. I would recommend this product.
Verified
D Dempster, 31 May
So easy to use. It's brilliant.
Fast delivery, easy to use, put along kitchen worktop around whole kitchen, looks fresh easy to clean splashes from sink. Loved it so much put along bathroom floor which has tiles, this gives it a much better finished look. Highly recommend.
Verified
Sally, 23 May
I have ordered quite a lot recently - a very happy customer!
I have ordered quite a lot this last few weeks and I must say I am extremely happy with my products. I ordered Skirting board buddy - love this no more bending down, hurting my knees and back, comes with 2 clothes. Absorbe it all cloths - wow, soaks up so much liquid and no drips wow! Brilliant for windows Simple seal ( yet to use ) Honey comb heaven - fabulous Fresher for longer bags - still looking fresh Sumo strips - great product, no damage to wall when I changed my mind where to put the pictures Germ free genie - no disgusting toilet water drips Grow gloves - will be trying these out thus weekend fit well excited to use. No more broken nails. Wollen wonders - worked really well although I would just point out, I didn't use with my dark washing as fibres come off. Data defender - no more time consuming ripping up of paper. Better brush long handle broom and small handle - great, attracts all the cat hairs but doesn't get clogged in the bristle like my old one. I have my eye on some more items so will be ordering again! Delivery prompt and communications superb well done, keep up the good work! Also they sent me a further 20% off voucher, happy days One very happy customer
Verified
Louise Brookfield, 16 April
I have just used the Simple Seal on the…
I have just used the Simple Seal on the outside of my shower tray. It was quick and easy to use and looks a lot better the silicone previously used.
Verified
FreeAsABird, 10 April
Will be ordering from them again
I ordered the Simple Washing Sheets and the sealant tape for the shower. Both great products and I will definitely be ordering from Must Have again.
Verified
Customer.Barbara., 20 March
Excellent
Good communications, prompt delivery. The two things I ordered (tape and knife sharpener) did exactly as expected. Thankyou x
Verified
Mrs Catriona Rogers, 08 March
Bought a reel of Simply Seal for behind…
Bought a reel of Simply Seal for behind my sink taps. Wow what a joy to use so easy and looks very neat. Thank you Amy for another amazing product not my first purchase from your company and won't be the last. Customer service is excellent.
Verified
Pamela, 15 January
Seal of Approval !
Fantastic Company to deal with ,no nonsense !Easy ordering system and good discounts ,Shower seal improves the appearance of the interior of the Shower Cubicle .
Verified
cmclean, 16 December
A company which has a good variety of useful items and gives helpful and friendly service.
I've only recently started to purchase from this company and so far I'm very happy with items and service received. My favourites are the Bright Bars which are both useful and decorative, give off a really bright light useful for dark corners and are attractive placed on an internal staircase, the Mould Magic Extreme was easy to use and worked very effectively removing black mould from old veluxe window frames, the Simple Seal used along the back of my bath has tidied up the join between my bath and tiles, the Wonder Wrap bags have made wrapping Christmas gifts so much easier saving my old arthritic fingers a lot of time and pain, and the microfibre cloths are excellent for dusting and general cleaning. I haven't quite got the knack of the Sumo Strip yet, I found it tricky to separate the backing tape from the sticky side but hopefully will get help with that from my nephew. In all it's a company worth looking out for and I highly recommend it. Helpful and friendly too.
Verified
customer, 10 December
Great product
Great product. Much easier to apply than sealant from a tube. Loved the helpful leaflet with tips on melting the glue so it stuck better. Looks a really professional job. Easy to wipe down after a shower as well.