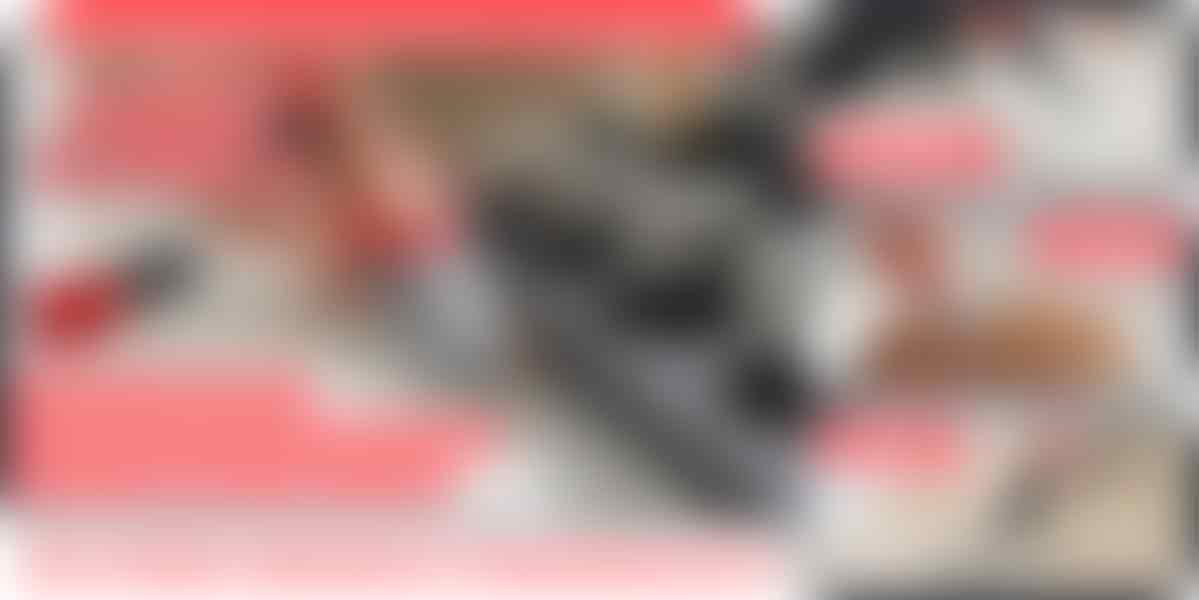 Our customers say
Excellent
4.7

out of 5 based on
99,782 reviews

Our customers say
Excellent
4.7

out of 5 based on
99,782 reviews

Never break a fingernail ever again! Let Super Scraper power through all those awkward, annoying jobs.
Whether it's removing sticky labels, cleaning tough burnt-on messes, or opening packages,
Super Scraper is the ESSENTIAL tool you can depend on.
Plus, it's GUARANTEED to NEVER scratch ANY surface!
You'll find SO MANY uses for Super Scraper all around your home & garden!
Perfect For All Those 'Fingernail' Jobs
Super-Tough
Non-Scratch Material
Access Hard-To-Reach Areas
Easily Peels Annoying Sticky Labels
Removes Stubborn Grease & Grime
Dishwasher Safe
Powers Through
Mess Without EVER Scratching!
Even safe to use on non-stick surfaces, glass & mirrors
Powers Through Mess Without EVER Scratching!
Even safe to use on non-stick surfaces, glass & mirrors
Unlike others, Super Scraper is guaranteed to NEVER scratch, scuff or mark any surface.
Clever Design That Saves Your Fingernails!
Safe For You, Safe For Surfaces
Safe For You, Safe For Surfaces
With no blade, Super Scraper is the 100% safe way to remove, clean & open almost anything.

FLASH SALE: LIMITED TIME ONLY
FLASH SALE:
LIMITED TIME ONLY
BUY ONE GET
ONE FREE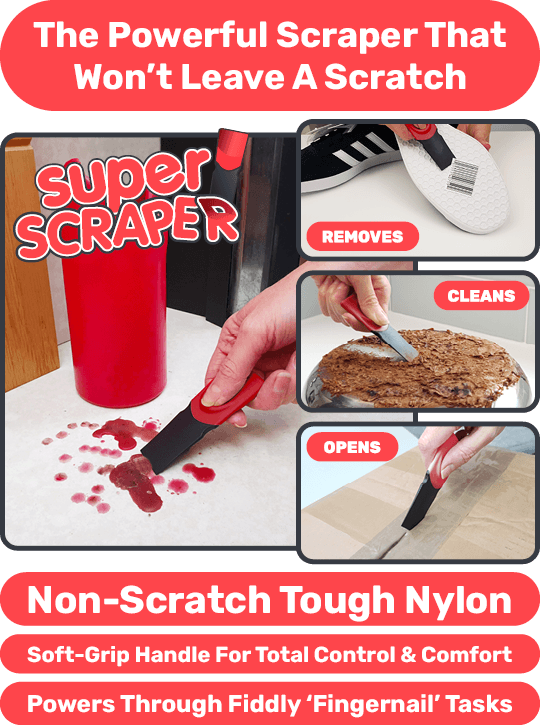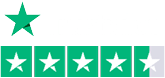 Rated Excellent
4.7 out of 5
99,782 reviews
Get your
Super Scraper
today and get a second for
FREE
USUALLY £0.00
JUST £9.99
Or Pay it in 4 with

Info
Order now for guaranteed delivery by:
Friday 1st December
Save your fingernails!
Why shop with us?

2 working day delivery guaranteed

Family owned & run

British business (110 staff)

83,895 5 star reviews

Over 2.2 million happy customers
2 Working Day Delivery
Tracked with Royal Mail
from family-run UK business
No Quibble 100-Day
Money Back Guarantee
UK based customer services
Hassle-Free
Returns Guarantee
Returning items is quick & easy
Customer Reviews Powered By
Excellent
Based on 88,555 reviews on

Verified
Graham Booth, 22 August
Really friendly and efficient Site
Really friendly and efficient from start to finish. I bought a super scraper and it has worked exactly as quoted. Has been a great item. Delivery was quick and as stated on site. Would definitely buy from them again.
Verified
Mandy, 20 August
Great little tool
Such a versatile tool can do many different things and it's strong
Verified
Brad Cartlidge, 19 August
Super Scraper.
Great little scrapers, used to clean cooker and open parcels, very handy. fast delivery. great company,lots of great products.
Verified
Jeanette Armstrong, 19 August
The scrapper is amazing so glad I read…
The scrapper is amazing so glad I read the reviews & took the chance.
Verified
Mr Philip Harvey, 18 August
Purchases were quickly dispatched and…
Purchases were quickly dispatched and received in good order. Grand wee scrapers.
Verified
Susan L, 18 August
Efficient service
Fast, prompt service but the product didn't do what we were hoping for - the super scraper is blunter than we need, but I'm sure we'll find a use for them.
Verified
Arnold Jones, 18 August
Nylon scraper
First of all, the delivery was quick, as promised & Royal Mail kept me updated. I have used the scraper on an oven dish earlier, which had some burned- on meat traces on it. Normally, for an enamelled dish, I would use a nylon scourer. I tried the scraper- much quicker & I was confident it would not damage the paint surface. Worked very well, very pleased with it
Verified
Jenny O'Brien, 15 August
I love this company
I love this company. I am happy with everything I have ordered. So far, I've had the drain sticks, mould magic, cloths, better brush and it's little friend, super scraper and nanna's secret. All of them are fab. I've tried for years to get rid of black mould on silicone in my bathroom, nothing worked. It took several applications of mould magic and it's gone. I have many more on my list. Roll on payday. One very happy customer.
Verified
Debbie, 02 August
Super scrapers that really work!
I ordered 2 small scraping gadgets which arrived in a couple of days, securely packaged. They are brilliant. Easy to hold and well made. I do a lot of cleaning for friends and today used one to scrape dried paint of wooden flooring. Easy peasy! No more broken nails for me. ❤️
Verified
Janet Connor, 01 August
Fast delivery
Fast delivery. Seems to be a very handy gadget which has already been used for several little jobs in only its first week with me. It appears to be nicely made and and comfortable to hold. Good luck to MustHaveIdeas. I've looked through their website and I shall be buying from them again.
Verified
A Yates, 31 July
Scrapers
Really rapid turnaround of the order and goods, scrapers, were as stated and appear to be good quality. They are good to hold.
Verified
Guest Freda Delve, 30 July
The super scraper
The super scraper. Is so easy to handle It was delivered promptly
Verified
MISSDEBMORTON, 27 July
Nylon scraper 👍
Great tool to scrape sticky stuff and other bits will be buying again
Verified
Martin Robins, 23 July
Nylon magic scrapers
Bought two little nylon magic scrapers. Brilliant! Good service and price too.
Verified
Clair, 23 July
Handy tool
After seeing advert i thought it was worth a risk for the price and I'm glad I did very sturdy and helpful tool as I'm a cleaner and the buy one get one free offer was a bonus!
Verified
Patricia Bewick, 23 July
I brought two sets of scrapers
I brought two sets of scrapers, one for the Kitchen and one for the garage. I am very satisfied for use in both places. The service and delivery was very satisfactory.
Verified
Sue, 20 July
Super scraper
Super fast delivery, great communication. Good little tool for scrapping burnt on food from pans.
Verified
Mrs Ellen Ann Donnelly, 13 July
Very prompt de!iveries
Very prompt de!iveries, good quality products and a nice company to deal with.My favourite purchase to date is the little rubber pan scraper......SO useful !!
Verified
Elaine Swift, 12 July
Handy little gadget.
Bought a small scraper which has proved very useful already. Product arrived when stated no hassle at all
Verified
Peter, 10 July
Great product (scraper) and quick…
Great product (scraper) and quick delivery.