Our customers say
Excellent
4.7

out of 5 based on
99,805 reviews

Our customers say
Excellent
4.7

out of 5 based on
99,805 reviews

Total Toilet is the easy way to an effortlessly hygienic, always‑fresh loo.
Simply drop it in and it'll keep on working for 2000 flushes – nothing to remember to change,
no rubbing, no scrubbing – it is truly effortless.
Flush after flush, it's innovative powerful 7‑in‑1 formula will remove stains, neutralise odours and
sanitise your toilet every time, without you having to lift a finger.
7-in-1
Deep-Cleaning Action
Deep-Cleaning Action
So you'll always have a spotlessly clean loo after every flush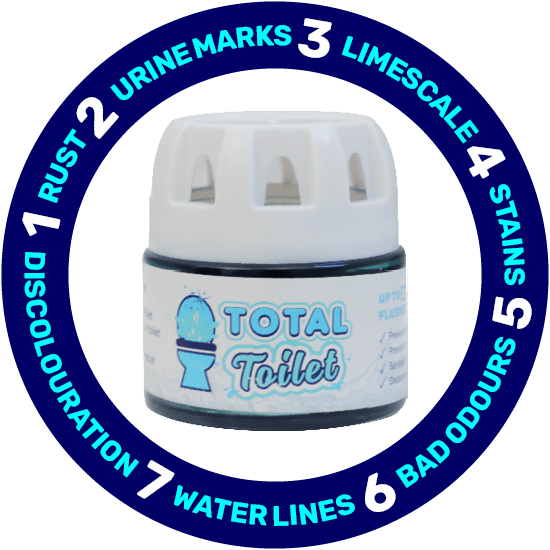 Lasts 2,000 flushes
Powerful cleaning action
No effort required
Antibacterial – kills germs
Non-toxic
Sparkling blue or purple water
We guarantee a spotlessly
clean toilet after every flush
Super-powerful stain-fighting, germ-killing formula in every flush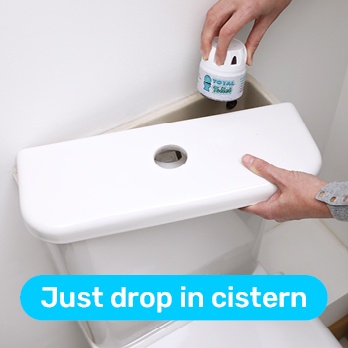 Easy to install
Just drop in & forget about it for the next 2,000 flushes, nothing to change, no refills needed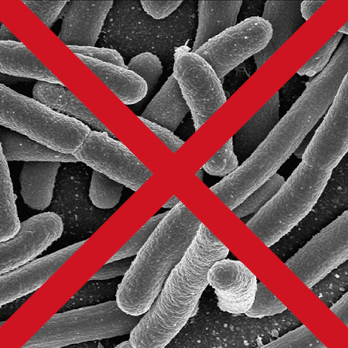 Antibacterial
Eradicates germs & smells with every flush – plus it removes tough stains with ease
Sanitising
The sparkling blue or purple water let's you know it's working with the sumptuous delicate fragrance of essential oils

FLASH SALE:
LIMITED TIME ONLY
BUY ONE GET ONE FREE
FLASH SALE:
LIMITED TIME ONLY
BUY ONE
GET ONE FREE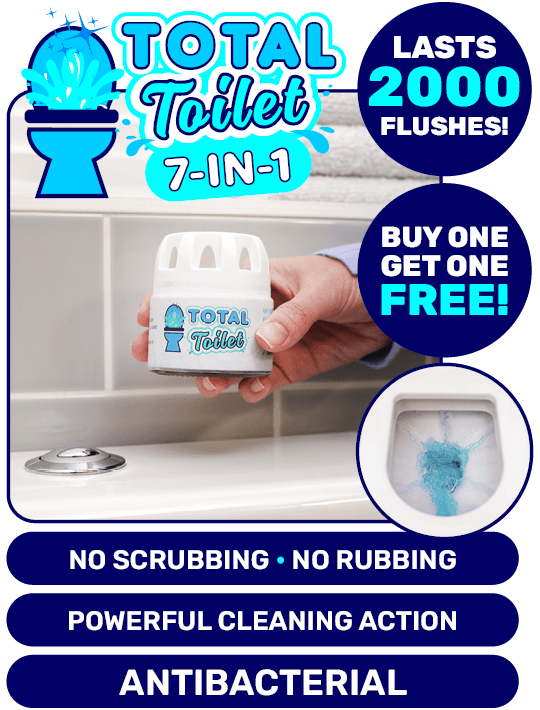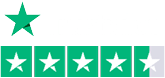 Rated Excellent
4.7 out of 5
99,805 reviews
Get your
Total Toilet
today and get a second for
FREE!
USUALLY £0.00
JUST £11.99
Or Pay it in 4 with

Info
Order now for guaranteed delivery by:
Saturday 2nd December
Always have a fresh & clean toilet (with no effort!)
Why shop with us?

2 working day delivery guaranteed

Family owned & run

British business (110 staff)

83,962 5 star reviews

Over 2.2 million happy customers
2 Working Day Delivery
Tracked with Royal Mail
from family-run UK business
No Quibble 100-Day
Money Back Guarantee
UK based customer services
Hassle-Free
Returns Guarantee
Returning items is quick & easy
Customer Reviews Powered By
Excellent
Based on 88,555 reviews on

Verified
Sue R-B, 20 August
Awesome!
I have ordered a few times now and every time I am happy. I look forward to my purchase because I KNOW the products will work. I bought Total Toilet this time around. It works so well for a very long time.
Verified
Charlie Gibson, 30 July
Total Toilet reorder
I was re-ordering items I had used before from you so I knew I would be perfectly satisfied with the product. They arrived on-time as promised. Another satisfied customer
Verified
Pauline Roffey, 28 July
Excellent purchase, again
Excellent purchase, as always. Always does as advertised. Lovely blue, hygienic toilet now. Reasonably price too, thank you.
Verified
Susan Delahunty, 06 April
Total toilet keeps toilet clean and hygienic
I ordered the product online and it arrived 2 days later. The total toilet product keeps your WC clean for months. I have been using them for nearly 2 years and will continue to do so.
Verified
Sally Anne Van Wyk, 12 September
I bought the toilet bowl cleaner to try…
I bought the toilet bowl cleaner to try as it was buy 1get 1free. It's fantastic, I love the blue colour and how fresh the toilet is. Tried to re order but it's sold out. I will keep watch , def will buy again .
Verified
Mrs june bacon, 28 August
Bought some more toilet blocks
Bought some more toilet blocks, best ever
Verified
Monica Savill, 21 August
Great products
Great products , have bought the laundry sheets and the toilet flush cleaner . Good customer service and value for money .
Verified
Liz McNulty, 21 August
Everyday Time Savers
We are delighted with our purchases. We got the toilet blocks to keep the germs at bay and the beautiful bags for gifts. The gift bags will save me stressing over wrapping gifts for the grandchildren
Verified
Doreen Read, 16 August
I thought I would give this a try
I thought I would give this a try, I've tried other in cistern products but this one is the best so far. It's a pleasant but not overpowering scent and I've noticed less limescale marks. I can't review how long it lasts as it's only been a couple of weeks.
Verified
joanne , 15 August
Great item
Got these last week and was a bit sceptical. Popped one in the cistern and after about 8 flushes the blue stuff worked its magic. No need to worry about about it now until 2000 flushes.
Verified
TC LOWTHER, 15 August
Well my partner showed me the blue…
Well my partner showed me the blue toilet cleaner you put in the top off the loo and he said it dose 2000 flushes, so that's why I decided to order them they are great and the loo brush 😀😀
Verified
Giles Starling, 14 August
Good value items to help around my home
I love the loo blue thingy, it works a treat. The new loo wand is fab as well. Makes my least favourite job of the week much easier.
Verified
Mrs wendy walker, 12 August
Great product for a little thing
Very fast delivery, product so far staying blue in my loo, so against the most popular which has only been last week and half if that it's doing well.
Verified
Stuart Gregory, 10 August
It does everything it says in the…
It does everything it says in the advert. Simple to use with a pleasant smell and blue colour.
Verified
Mrs J Meanwell, 07 August
Cleaning products
I have ordered 3 products so far, have tried 2 and am pleased with the results. 1 was the mould remover, the other were the toilet/ cistern, cleaners. The 3rd item I bought was nanna's secret which I haven't tried yet but am anticipating that it will work and be a good as the other products.
Verified
Helen Humphreys, 02 August
2 useful items that work…
Ivehad the toilet blocks that are brillant Absorbent cloths are great too
Verified
Michelle Butler, 01 August
Toilet ball
Great product cleans toilet a. Nd the blue colour after every flush is great too well worth the money
Verified
D Campbell, 22 July
Total Toilet
From ordering the product to receiving and putting it into use was first class. Really good company to deal with and all products are very practical.
Verified
J. randall, 10 July
Must have ideas have some brilliant…
Must have ideas have some brilliant stuff, the mold stuff actually works and just bought the toilet cleaning pots as my usual blue loo was damaging my toilet, it hasn't got a strong smell, but nice colour and keeps toilet clean
Verified
Michael H Francis, 10 July
Ordered total toilet
Ordered total toilet. Delivered quickly and a good product. Will definitely buy again. Thanks